Amelia Island – The Perfect Romantic Destination
Amelia Island has been named best romantic getaway by Jezebel Magazine – Best Of Atlanta 2017 as well as has ranked #3 on the Conde Nast Traveler Magazines top 10 Islands in the US in 2017; the list of awards goes on and it's really easy to understand why the moment you arrive on this barrier island off the Northern Coast of Florida.
It does not get any more picture perfect romantic than a walk during sunset on a white sanded beach or enjoying a horse drawn carriage ride through the lively Downtown Fernandina Beach.  Fernandina Beach is also one of the few last places where you can ride horses on the beach. If you choose to get married here; do yourself a favor and stay for your honeymoon and continue to enjoy everything magical place has to offer.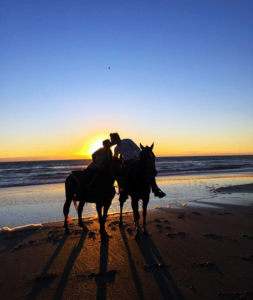 Amelia Island has a very unique look and provides the most incredible backgrounds for your photos. Whether you prefer beach p2ortraits or want the fairy tale look of the sun coming through the moss on the windswept oaks you will not be disappointed.  The photos below are the perfect example; as captured by the Islands highly recommended and very talented photographer Pam Bell.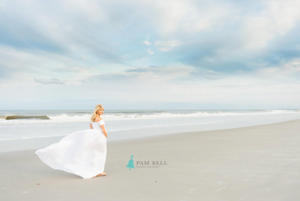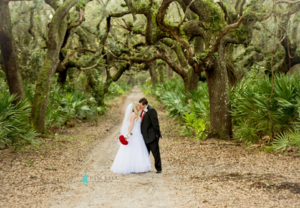 Photography By: Pam Bell Photography
 Guest Lodging 
When planning a destination wedding it is important to find accommodations for your guests so they don't have to worry about anything other than arriving and celebrating with you.
The Amelia Surf and Racquet Club has been written up in the Amelia Islander, their Wedding Edition as one of the top recommended resorts for guest lodging and honeymoons. While staying with us your guests will have an ocean front vacation experience and won't feel like tourists but rather like they are a part of an Island Community.
We offer 1, 2 and 3 bedroom condos, all of which overlook the Atlantic Ocean.  All of our units are beautifully decorated and come with a full size kitchen, cable TV, fee wi-fi and of course gorgeous views of the beach.  Your guests will be able to enjoy our clay tennis courts, pools and the private beach walkover all of which will lead to creating unforgettable moments.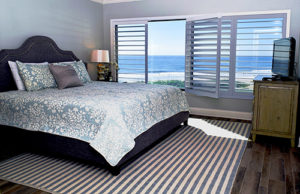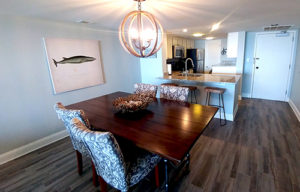 Pictured: Unit B-158,
Florida Properties has an on-site office so we will be here to greet your guests as well as to answer any questions they might have. You are welcome to leave party favors at the front desk and our staff will ensure that they will get placed in the condos before your guests arrival.
Florida Properties offers group discounts for wedding guests as well as the bridal parties. Just give us a call at 904-261-0511 so we can check availability as well as work with you on rates.  We manage about a third of the units here at the Amelia Surf and Racquet Club so there is plenty to work with.
We are conveniently located just minutes from several golf clubs as well as the Ritz-Carlton.  Staying with us during the Annual Wedding Expo, which usually takes place in February would be a great opportunity to familiarize yourself with the property and to see our units.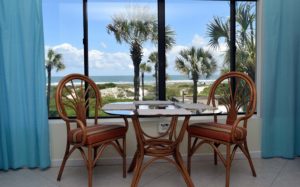 Pictured: Breakfast Corner in Condo A-110
Welcoming Your Guests
One of our suggestions is to provide your guests with snacks and beverages so they don't have to rush off to the grocery store upon arrival. The Savory Market is perfect for that.
The Savory Market specializes in local farm fresh foods, you can either get products such as farm fresh produce, seafood, meats as well as gourmet cheeses to fill the fridge or have already made sandwiches or finger food platters delivered to the property. They even offer already made dinners that come with re-heating instructions. It is a nice welcoming touch; a nice way to say thank you for traveling to join us for our special day.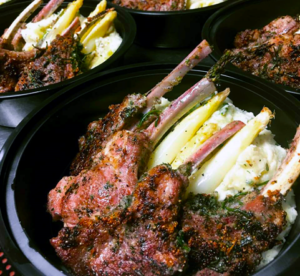 Pictured: Takeaway Dinner From The Savory Market
Beach Weddings 
Amelia Island is a popular destination for couples who want to tie the knot in a magnificent setting; the Spring and Fall months are when the temperatures are just perfect for a beach or outdoor wedding.  Did you ever dream of getting married to the love of your life on white sand with the Atlantic Ocean before you? These dreams can come true if you choose Amelia Island as your wedding destination.
I can't imagine anything more romantic than saying your I Do's on a beach with the Atlantic Ocean as your background with the salty air in your vail.
There are no permits required to have your own wedding on the Beaches of Amelia Island, just choose any of the 40 public beach accesses. The Scott Road Beach access is right next to our property.  Keep in mind that sea turtles might join you as they nest between Mat 31st and October 31st; during this season lighting and flash photography are not allowed pre-dawn and post-dusk on the beach.
Marriage licenses are issued by the Nassau County Clerks Office, which is located at the Historic Fernandina Beach Courthouse.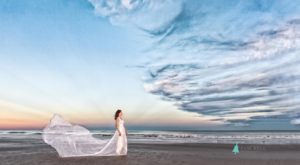 Photo By: Pam Bell Photography 
The Venues
From golf courses with dreamy windswept oaks to yacht clubs and award winning resorts staffed with only the best chefs; Amelia Island offers endless possibilities for a story book wedding.
The Golf Club Of Amelia Island
This venue is within walking distance to the Amelia Surf and Racquet Club, it is about a 10 min walk and a 2 min drive.
The Golf Club Of Amelia offers two unique venues; you get to choose between their luxurious club house or the beach front reception and ceremony space that overlooks the Ocean. They are staffed with a team of professional planners who will take care of every detail for you as well as an in house chef who will create memorable and delicious dishes to please and delight your guests with.
Both images are of a wedding set up at the Golf Course of Amelia Island, they also offer really fun additions to their wedding packages such as a fire pits, a pop-up bar, s'mores, cornhole and you will have the option to have their terrace oak trees wrapped in twinkly lights for that fairy tale glow.
Pictured: Golf Club Of Amelia
That is where the wedding expo will be taking place, and it's also located just a short 5 minute ride from the Amelia Surf and Racquet Club and is also located right across the street from the beach.  Their Wedding Wire reviews alone are enough to choose the Fernandina Beach Golf Club to host your Wedding Day. According to the reviewers, they are very reasonably priced and provide an exceptional service executed by their friendly staff.  You will be able to preview their preferred vendors and the space during the Expo in February if you choose to attend.
This coastal casual designed club is neatly positioned on the Northern tip of Oyster Bay.  The yacht club offers several ceremony space options such as their Front Lawn which is surrounded by beautiful sub-tropical foliage, The Marshview Canopy and The Portico which offers a dose of Southern charm with a perfect arch and expansive views of the front lawn. Their receptions take place in the Clubhouse. The Clubhouse was designed by renowned architect Keith Summerour and provides a casual yet elegant ambiance and spacious covered verandas.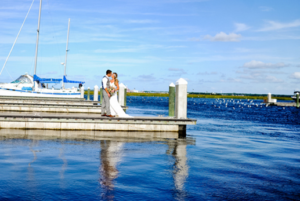 Pictured: Oyster Bay Yacht Club
The Vendors
With Amelia Island being such a popular destination for wedding there is a lot of pressure on the vendors catering to weddings and similar events. Here is a list of some of the best in their field.
The wedding Expo is produced and sponsored by Lisa Presnell Productions; an Amelia Island based Florida Beach wedding and event planning company. Lisa who is a Fernandina Beach native and her team of professionals provide all-inclusive beach weddings, elopement, same sex marriage and vow renewal packages and many more types of events. Lisa Presnell Productions is one of the top wedding and event planning companies in the Wedding Wire Network.  She has been recognized amongst the top 5% of wedding professionals nationwide for the past four consecutive years by the Wedding Wire's Couple's Choice Awards.  No event is too big or too small for Lisa. You will be able to meet her at the Wedding Expo on February 25th; please continue reading if you'd like to learn more about the Expo.
The beauty bar is a green circle hair salon, not only do the stylists have up to date styles and amazing styling tricks up their sleeve but they create natural beauty with plant derived products that are not tested on animals and are safe for the environment. Their mission is to change the world, literally making it a more beautiful place while helping clients look and feel beautiful.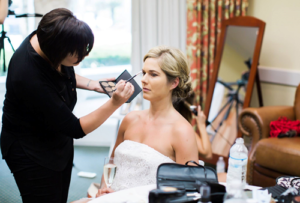 Pictured: The Owner Of The Beauty Bar Andrea, while she is working on location
You can see for yourself from the photos posted throughout this article, that Pam has an incredible eye for capturing special moments. Her images tell beautiful stories of love between couples and families.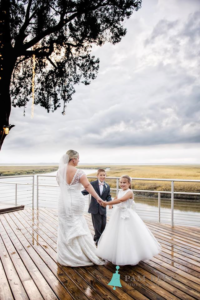 Sugar Flour Pastries is owned and operated by Vickymarie Alicea a Puerto Rican native who has been calling Amelia Island home for quite some years. She has been professionally trained at the Le Cordon Blue College of Culinary Arts in Orlando Florida. As she puts it; she has discovered that baking is art and passion best sprinkled with love during her long hours of study to master the challenges the world of Patisserie. Her creations are as delicious as they are beautiful.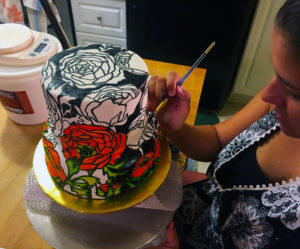 Pictured: Vicky hard at work
We have seen may flower arrangements from this particular florist and they were all incredible, the flowers are always really fresh and last a long time. Their caring and friendly staff will be happy to create amazing arrangements for any bride and bridal party.
The Amelia Island Wedding Expo
Venue:                                                             Fernandina Beach Golf Club
Address:                                                          2800 Bill Melton Rd. Fernadina Beach FL 32034
Contact Information:                                    Phone: 904-310-3175
Cost:                                                                 Free and open to the public
Each vendor will have a door prize giveaway.
You will find exactly what you need and save countless hours from traveling all over town in search of first class vendors for your special day.
While there is no fee to attend, in support of Northeast Florida Advocates for Autism & Related Disabilities Inc.  donations are greatly appreciated and encouraged.
What should you bring to the show?
Bring pre-printed address labels, nearly every vendor will ask for your name or invite to enter their drawings for special gifts and prizes. Having these labels will save you from having to write your name, address email and phone over and over again. It is a good idea to bring your date book and check book or ATM card. You may find one or more vendors that you would like to schedule a personalized consultation with following the show. Many exhibitors offer on the spot "Discounts and Show Specials" which may require a small deposit.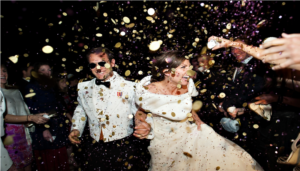 Directory of all vendors and venues mentioned in this newsletter
Amelia Island Dj and Photo Booth:
Phone: 855-359-3825                                         Email: walt@ameliaislanddj.com
Phone: 904-261-0511                                          Email: flp@surfandracquet.com
Phone: 904-557-3783                                         Email: Jennifer@ameliatogo.com
Phone: 904-302-6086                                       Email: info@crescendoamelia.com
Phone: 904-261-6993
Phone: 904-261-3011                                         Email: dottiebflorist@bellsouth.net
Phone: 904-206-3115
Phone: 904-548-4604                                        Phone: 904-491-6430
Phone: 904-261-4773
Phone: 904-277-9681                                         Email: Pambellphoto@comcast.net
Phone: 904-432-8551
Phone: 904-699-5009                                        Email: sugarflourpastries@gmail.com
Phone: 904-624-7724                                        Email: a.thebeautybar@icloud.com
The Fernandina Beach Golf Club:
Phone: 904-310-3175                                         Email: kbenjamin@fernandinabeachgolfclub.com
The Golf Club Of Amelia Island:
Phone: 904-277-8015                                         Email: info@golfclubamelia.com
A wedding weekend can be a bit hectic with everyone coming from out of town and sometimes it's good to know that there is someone to call if you need any last minute items. Amelia To-Go is a delivery service that will bring food from any of the Islands restaurants, groceries and even wine to your door.  
Forgot to bring a gift or just in the mood for a shopping spree, Debonair is a perfect destination for that. They carry fine jewelry, the latest fashion in designer handbags and much more.
They are best described in the words of one of the band members, Frank Basille "we are more than musicians and entertainers; we are creators, educators and community leaders, we don't want to be nor ever will be just another Jazz Band.
We have seen may flower arrangements from this particular florist and they were all incredible, the flowers are always really fresh and last a long time. Their caring and friendly staff will be happy to create amazing arrangements for any bride and bridal party.