It is really easy to see why the Conde Nast Traveler Magazine readers have voted Amelia Island the 3rd best Island in the U.S; from our beautiful beaches to the seemingly endless green space, green ways, bike trails and canopy roads; there is something to amaze you around every corner.
Just imagine a short boat ride where you get to see dolphins with their puppies and several of bird species such as ospreys, wild ducks, woodpeckers and songbirds; your guide will then take you to Cumberland Island where you get to see wild horses. Other critters such as armadillos, bunnies, wild turkeys and gopher tortoises are also roaming the ever green trails of Cumberland Island. Another interesting fact is that Cumberland Island was the favorite getaway of the late John F. Kennedy Jr.
Don't forget to bring water and snacks as there are no stores and no restaurants on Cumberland Island; please leave footsteps only.
Here are a few ways to get to Cumberland Island:
Amelia River Cruises, Phone# 904-261-9972
On The Water Adventures With Captain Carol, Phone# 904-260-1762 (Captain carol is highly recommended by locals, she is very knowledgeable and just an amazing tour guide.
Pictured: Cumberland Island, January 2017, Photography by Roza Money
Another amazing attraction is the Historical Fort Clinch, it is located in a Sate Park and is overlooking the Ocean. You can explore the Fort on your own or enjoy a guided tour with period reeanctors depicting garrison life. Other popular activities are sunbathing, searching for fossilized shark's teeth. Anglers can take advantage of excellent surf fishing. Hikers and bicyclists can enjoy a six mile trail trough the park. Self guided nature trails provide many opportunities to learn and observe native plants and wildlife.
Here is a link to the Parks web site for more information: https://www.floridastateparks.org/park/Fort-Clinch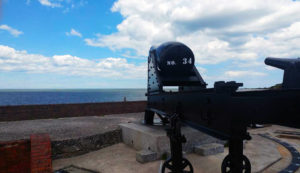 Pictured: Canon at Fort Clinch
The outdoor activities are endless and can be enjoyed year round due to the mild winter weather; so whether you are looking to just get away for a week or to own a slice of paradise Amelia Island should be your next destination.
Pictured below: Amelia Island's Natural Beauty as observed trough the lens of Roza Money