The Islands natural beauty is breath taking, we highly encourage all visitors to participate in outdoor and nature activities. We have outlined a few here but we are always happy to help you find an adventure that fits your family. You will not only create everlasting memories but will also learn about everything that makes this place magical.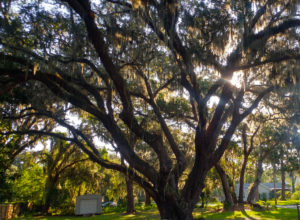 ON THE WATER ADVENTURES
Egan's Creek Marina, Fernandina Beach, FL 32034
Phone: 904-206-1762
Website: http://www.onthewateradventures.com/
Every trip is different!
Captain Carol is the owner and operator of On the Water Adventures.
Carol has 14+ years of experience as a guide on this area's waters.  She gained her knowledge of the local wildlife through observations and research.
Carol considers herself a "backyard biologist".  She is on the water almost everyday.
"The best part of my job is seeing people share the thrill of seeing wildlife in it's natural environment.  Like watching dolphins play in the water along the side of the boat!", Captain Carol.
Carol is a licensed boat captain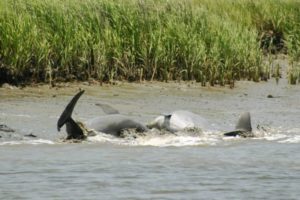 Pictured: Dolphins fishing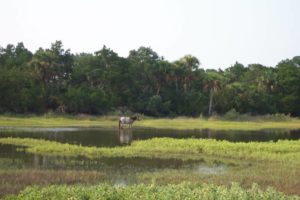 Pictured: Wild horse on Cumberland Island
BICYCLING ON AMELIA ISLAND
Did you know that Amelia Island is considered one of FLORIDA'S BEST PLACES TO BIKE?
The island provides a number of options from rugged trails winding past century-old, moss-laden live oaks and natural waterways to smooth scenic coastal paths. If you didn't bring your own bike, rentals are available throughout the island and guided bicycle tours are offered at some locations. One of the trail options on the northern tip of Amelia Island is Fort Clinch State Park, offering six miles of exciting trails under magnificent tree canopies where riders may catch an occasional glimpse of white tail deer and other wildlife.If you want to ride with the sound of the ocean waves in the background, Amelia Island invites you to pedal along her 13 miles of coastline for a true island experience. No matter which paths you choose to pedal, a unique view of Amelia Island awaits.
View and download the AMELIA ISLAND BICYCLING BROCHURE HERE, or pick one up at the Welcome Center in Historic Downtown Fernandina Beach.
Hours: Sunup to sundown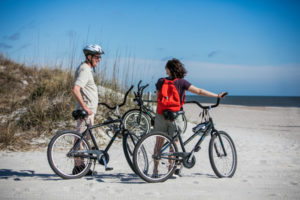 KELLY SEASHORE RANCH
Amelia Island State Park (Southern tip of Amelia Island), Amelia Island, FL 32034
Phone: 904-491-5166
Website: http://www.kellyranchinc.net
One of only a handful of beach-riding opportunities in the nation. Through Kelly Seahorse Ranch enjoy the scenery of Amelia's fantastic white sand beaches and the beauty of the ocean by horseback. The Kelly Seahorse Ranch is the premier beach horseback riding outfit for Amelia Island and greater Jacksonville, and because of the uniqueness of our services, has become a destination attraction across the globe. Exclusively endorsed by the the Florida Park Service, Kelly Seahorse Ranch is nestled within the maritime forest of the Amelia Island State Park (A1A) at the southernmost end of Amelia Island.  A short trail ride from the ranch takes you directly out to ride miles of beach along the park's pristine Atlantic shore.  Kelly Seahorse Ranch also offers beach cruiser bicycle rentals for use on the Amelia Island Multi-use Trail.
Hours: Daily, 8am-5pm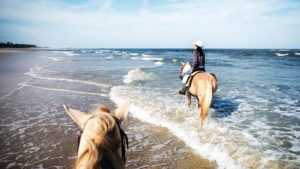 A professional photographer will ride along, your photos will be available for purchase on the companies web site.