Celebrating 4th of July on Amelia Island
This year, the city of Fernandina Beach and Light Up Amelia will be sponsoring a Hometown All-American 4th of July Celebration for everyone to enjoy. This free celebration is suitable for the entire family.
Located on Front Street, the celebration will have a beautiful view of the waterfront marina, which creates the perfect backdrop for 4th of July fireworks.
The list of events includes: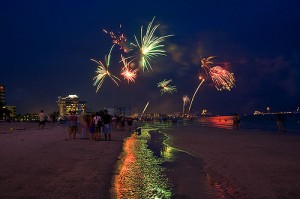 6:00pm – Parade Begins
7:00pm – Waterfront events start in Parking Lot B
7:00pm –  Yancy Clegg performs until 8:30pm
7:20pm – Decorated Bicycle Judging
7:40pm – Patriotic Pet Contest
8:00pm – Pie Judging
8:20pm – Eating Contest
8:45pm – Nassau Community Band performs
9:30pm – Fireworks Begin
This event is perfect for anyone who is coming to celebrate the 4th of July with us here on Amelia Island. For more information, you can contact us at the office 904.261.0511 or call Jay Robertson with the City of Fernandina Beach at 904.310.3361.